The Bethlehem Branch Library is excited to announce the 2017 schedule for its "Exhibiting Artist Series." At the start of each exhibit, the public is invited to attend a "Meet the Artist" reception with a gallery talk and light refreshments. The public is encouraged to view the exhibits throughout the year during library hours.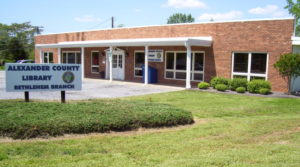 From February 2 through March 30, the Brushy Mountain Quilters Guild will be featured with its "Share the Love" group exhibition.
From April 6 through May 25, the exhibit will be "Ekphrastica: The Writing is on the Wall," which is a collaborative expression of "Art & Word."
From June 1 through July 27, the featured artist will be John Murgo with his "Transformed" exhibit of digital photography.
From August 3 through September 28, Kate Worm will be the featured artist with "An Alexander County Sketchbook."
From October 5 through November 30, the featured artists will be Sigrid and Steve Hice with "Art Books & Photos: Fusion of Color/Shape."
From December 7 through January 25, 2018, Carol Anne Hartman will be the featured artist with her photography exhibit entitled "Climbing Skyward."
The "Exhibiting Artist Series" is supported by the Bethlehem Branch Friends of the Library and the Bethlehem Community Development Association. Learn more about the Alexander County Library at www.alexanderlibrary.org.