When:
December 2, 2017 @ 6:30 pm – 8:30 pm
2017-12-02T18:30:00-05:00
2017-12-02T20:30:00-05:00
Where:
Mt. Pisgah Lutheran Church
9379 NC-127
Taylorsville, NC 28681
USA

Contact:
Connie Killian
828-495-7775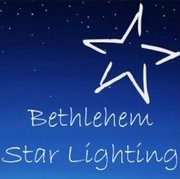 The 40th annual Bethlehem Star Lighting is set for Saturday, December 2 at 6:30 p.m. at Mt. Pisgah Lutheran Church in Bethlehem. The event is sponsored by the Bethlehem Community Development Association (BCDA). In this 40th anniversary, the tradition of "lighting the star" will be one to remember. The Bethlehem Star was destroyed on Monday, October 23, by the tornado that swept through the Bethlehem Community and Alexander County. But the BCDA promises there will be a Star Lighting! Evening activities include a living manger scene and scripture readings; bonfires; free cookies; hot chocolate and hot apple cider served by Bethlehem Cub Scouts and Boy Scouts. Music begins at approximately 6:30 p.m. with "The Salt Shakers" from Bethlehem Baptist Church followed by "Styx and Tones" 6:45 to 7:00 p.m. with Katelyn Banks Director. At 7:00 p.m., Ben Bullard will begin the program and festivities and introduce special guests and share the history of the Bethlehem Star Lighting. The "Star Lighting Program" will begin with a candle lighting and progression of the people to the manger by Santa Claus where music by the Bethlehem Community Choir will precede the scripture reading by Rev. David Hefner from Shiloh Lutheran Church, with the "Lighting of the Star" by BCDA Members (present and past). The program will conclude with Shiloh Lutheran Church Choir singing "The Greatest Story Ever Told." Guests may stay to enjoy cookies and hot chocolate and community love and laughter. Bethlehem photographer Carol Anne Hartman will make photos of children with Santa to be posted on Facebook. The Bethlehem Star Lighting has been an annual event on the first Saturday night of December for more than three decades and was a feature article in the December 2008 issue of USA Weekend and December 2016 issue of Our State Magazine. The one-night event draws more than 1,000 people each year. Mt. Pisgah Lutheran Church is located at 9379 NC 127, Hickory, NC 28601. For more information, contact Connie Killian at 828-495-7775 or Donna Reid at 828-234-6690.