If you're looking for a nice room, a bed & breakfast, a home for rent, or a campground… you're not far from one of Alexander County's fine attractions. In addition, Alexander County is centrally located within a 30-minute commute to Wilkesboro, Hickory, Statesville, Lenoir, or Morganton.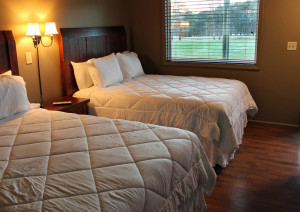 Brushy Mountain Golf Club
Brushy Mountain Golf Club offers two distinct ways to enjoy your stay. The Lodges at Brushy Mountain offers 10 rooms appointed with two luxury queen beds, Internet, refrigerator, microwave, 42″ HDTV flat screen, with coffee service in each room for $93 per night plus tax. The rooms are single, double, or family occupancy with no additional charge for up to four guests per room. The Fairway Lodge is a single-family, four-bedroom home with 4.5 baths that can accommodate up to 10 guests. The rate for the Fairway Lodge is $800 per night. The Fairway Lodge is an excellent facility to host receptions, family vacations, outdoor weddings, and company retreats. The Lodge has 10 TVs including a Home Theatre, Internet, two fireplaces and an outdoor patio overlooking the golf course. McLindon's offers catering or guests may prepare their own meals in a fully-equipped kitchen or on the outdoor grill. The upstairs guests have a full kitchen, too. The Fairway Lodge is a short walk to McLindon's Restaurant and Clubhouse. Call 828-632-7502 or 828-632-4804 to make a reservation. Brushy Mountain Golf Club is located at 300 Golf Course Lane in Taylorsville.
---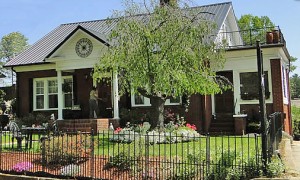 Apple City Bed and Breakfast
The Town of Taylorsville is locally known as "Apple City," as Alexander County is renowned for the apples grown in the Brushy Mountains. The county's sole bed and breakfast is aptly named Apple City Bed and Breakfast, which is conveniently located in historic downtown Taylorsville amid old pin oaks, pecan trees, magnolias, dogwoods and redbuds. The popular B&B offers four bedrooms named for different types of apples, by reservation only. Room amenities include: Direct TV, wireless Internet, state employee discount, small refrigerator & microwave. Smoking & pets are not allowed inside the facility. Make your reservation today by calling 828-635-1850 or 828-404-6933, or send an email. Apple City Bed and Breakfast is located at 143 South Center Street in Taylorsville.
---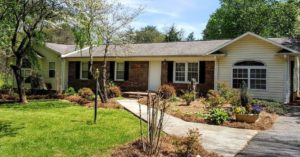 Peaceful Retreat
The Peaceful Retreat offers a beautiful lodging option, located just outside Taylorsville. The rustic appeal features a cozy fireplace that welcomes warm gatherings. The home has a large master bedroom, with a spacious jacuzzi and large deck space. Located on a 2-acre plot, you and your guests (accommodates up to 8 people) will enjoy privacy in a peaceful setting. The home has 4 bedrooms and 2 bathrooms, with luxurious accommodations and a special touch from the hosts. It also has wireless Internet, refrigerator, cable TV, washer/dryer — everything you need to feel right at home! Make your online reservation today on Air BnB! Peaceful Retreat is located just off Old Wilkesboro Road in Taylorsville.
---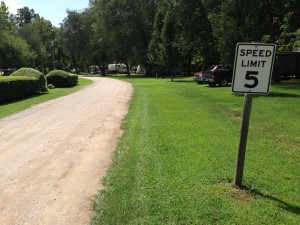 Hiddenite Family Campground
If you wish to slow down a little and enjoy nature's beauty, visit Hiddenite Family Campground. Family-owned and operated, the campground is open for camping year-round, with 37 full hookup sites, upgraded tent sites, and numerous primitive tent sites, nestled in peaceful wooded surroundings along the South Yadkin River. Come enjoy the campground's animals, large pool, and explore more than 30 acres of nature at its finest. Hiddenite Family Campground is located at 601 Princess Lane in Hiddenite. Call 828-632-3815 for more information.
---